The Mgahinga Gorilla National Park Where Gold Meets Silver
Although it is the smallest of Uganda national parks at just 34 sq-km, Mgahinga gorilla national park punches well above its weight.
Tucked away in the far southwest corner of the country, the tropical rainforest cloaks three dramatic extinct volcanoes and along with contiguous Parc National des Volcanoes in Rwanda and Parc National des Virungs in Democratic Republic of Congo (DRC) which all together with Mgahinga Gorilla National Park form the remarkable 434 sq-km Virunga Conservation Area.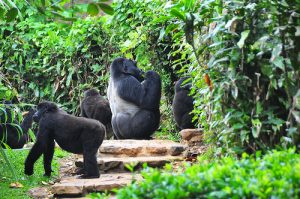 This is home of half of the world's rare Mountain Gorilla population. Elephants and buffaloes are also residents though rarely seen, 115 species of birds flutter through the forests, including the Rwenzori turacos and mountain black boo boo.
Gorilla tracking is still the main attraction at Mgahinga gorilla national park, but it's less popular than Bwindi Impenetrable National Park, due to the one habituated gorilla family having a tendency to duck across the mountains into Rwanda and DRC.
But there are much more on offer here than gorillas, Mgahinga also serves up some challenging but rewarding treks and an interesting cave, plus golden monkey tracking is almost as fun as hanging out with the big boys.
For Uganda gorilla tracking safaris please contact us via info@travel256.com or call our travel expert on +256 701 367970 or send a WhatsApp message on +256 701 601297