There are so many safari activities to undertake in Uganda but, the fact that the country is mainly known for the big population of mountain gorillas it harbors make gorilla trekking the most carried out tour activity in Uganda. Over 90% of safaris in Uganda have a gorilla trekking activity meaning most itineraries have Bwindi Impenetrable National Park on their plan which also makes Bwindi one of the most visited national parks in Uganda. So what are the most common safari activities in Uganda?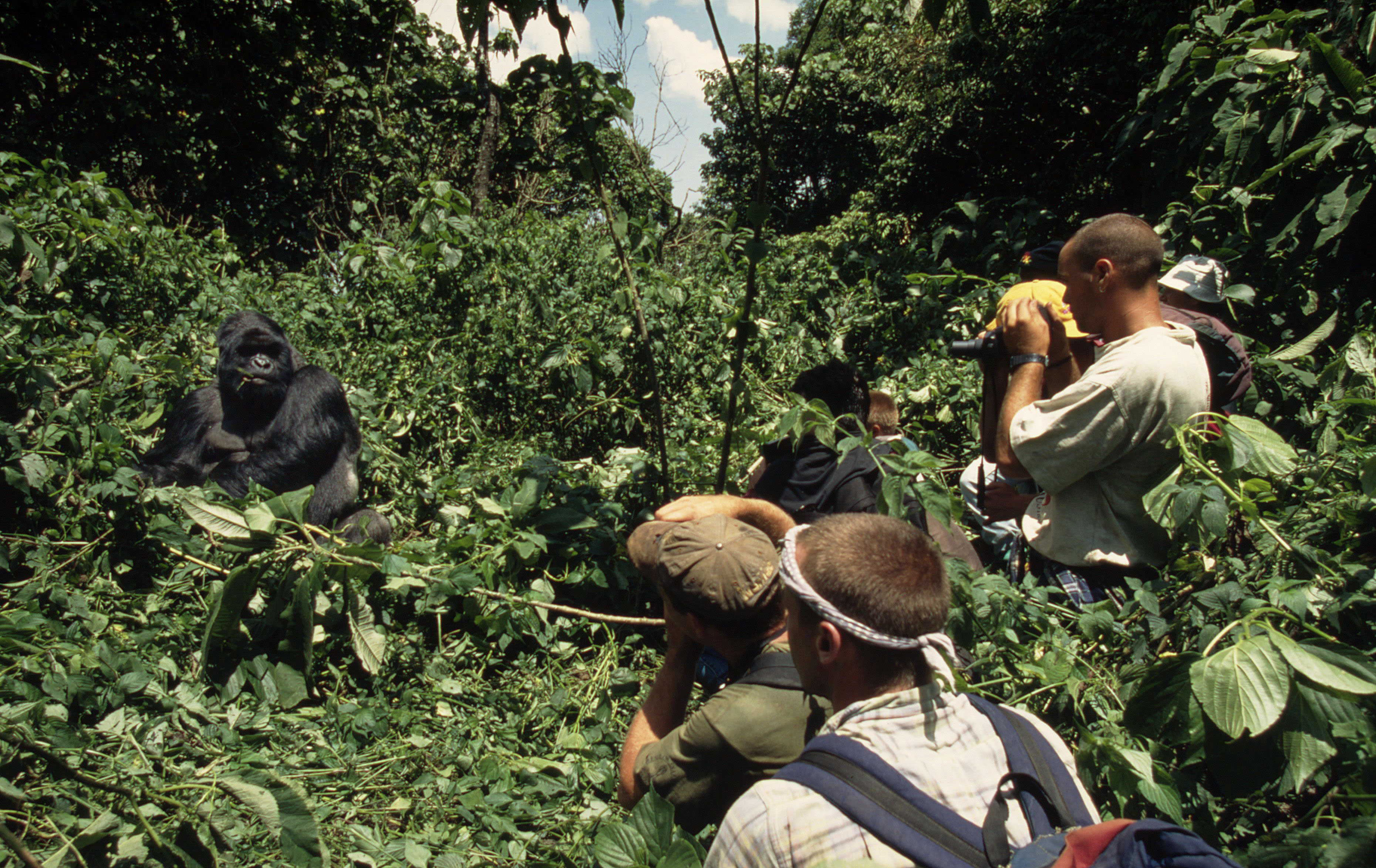 Equator Visit. I would say this is one the most carried out activities in Uganda because all trips that go to western Uganda (where the most visited national parks are) pass by equator and most of the clients stop by for an experience. This is the line that separates the northern and southern hemispheres of earth. The equator divides earth in the middle and you can easily make memories at this point by stepping beach foot on a separate hemisphere of earth. The temperature around the equator is so funny and you will see it for your self. This activity usually acts as a stop over for lunch, rest or rather coffee and usually takes not more than 2 hours.
Gorilla Trekking. Gorilla Trekking is definitely the most carried out activity in Uganda. When you search about places where you can find mountain gorillas (gorilla berengei berengei) in Africa, Uganda is one of those most popular destinations that will show up. In fact, Uganda is currently the best place for gorilla trekking in Africa because it shelters over half the total population of mountain gorillas in the whole world. Gorilla trekking can be carried out in Bwindi Impenetrable Forest National Park or Mgahinga Gorilla National Park.
Wildlife Viewing. Wildlife viewing in Uganda is very amazing. This activity is one of the most carried out and can be done from over half of the national parks Uganda has. The best places for wildlife viewing in Uganda are Queen Elizabeth National Park, Murchison Falls National Park and Kidepo Valley National Park (CNN's 3rd overall pick.) One thing i like about Wildlife safaris is the cost factor! These safaris are way cheap and will cost you as low as $200 depending on the number of travelers in your group. If need be, try to include hot air ballooning in your wildlife safari to get a more rewarding experience of wildlife.
Chimpanzee Trekking. Chimpanzee Trekking is another awesome activity to carry out in Uganda and best if included in the same package with a gorilla activity. Unlike gorillas, there are quite a number of places in Uganda where you can find chimpanzees and some of them are; Kibale Forest National Park, Ngamba Island Chimpanzee Sanctuary, Queen Elizabeth National Park (Kyambura Gorge), Murchison Falls National Park, Budongo Forest, Kalinzu Forest plus more places. Kibale, Ngamba and Queen still remain the most popular destinations for chimpanzee trekking in Uganda. A chimpanzee permit costs $150 in peak seasons, $90 in low seasons.
Launch Trips / Boat Trips. Launch Trips are also referred to as boat trips or launch cruises occasionally implicating if you bumped across any of the names above then you shouldn't confuse them because they mean almost the same thing only with a slight alternation. The only alternation is boat trips can be small or big depending on the area you are in. Boat trips along Lake Mburo or Lake Bunyonyi are usually carried out using small boats unlike launch trips. So far the best places for boat trips / launch trips are Murchison Falls National Park, Queen Elizabeth National Park and Lake Bunyonyi. These three spots have the best views especially Murchison falls and Lake Bunyonyi.
Birding. Uganda shelters so many species of birds in various places like forests, swamps, wetlands, Savannah plantations and more. Some of the popular places for birding in Uganda include Mabamba Wetland on Lake Victoria, Bwindi Forest, Murchison Falls National Park, Queen Elizabeth National Park, Semuliki Valley National Park and more. Birding is definitely an exciting adventure especially to those that shelter the passion in their hearts.
Golden Monkey Trekking. Apparently, the best place for golden monkey tracking in Uganda is Mgahinga Gorilla National Park though a number of these monkeys also reside in the impenetrable forest of Bwindi. Uganda Wildlife Authority has for years stepped up efforts of habituating Golden Monkeys in this national park so as to diversify it's tourism activities. Mgahinga harbors mainly mountain gorillas and golden monkeys implicating tourism activities are quite low within this park. A golden monkey tracking permit apparently costs $100 each exclusive of park entry fees.
Nature / Community Walks / Cultural Visits. Nature / Community walks are usually carried out to unwind clients from the fatigue of long distance journeys. As you should know, Uganda national parks are very far away from Kampala and you will spend hours travelling to and fro for instance, if you left Entebbe at 6:30am and reached Lake Mburo at 3:00pm, you realize have a lot of hours before the night falls and during this time we recommend you either take a rest or rather do a community walk. Also in scenarios of morning game drives, these walks can spark up your afternoon with some slight adventure. These walks are one of the cheapest activities and trust me, visiting tribes in nearby villages will reward you a great sight of the Ugandan diverse culture. Apparently, the best tribes to visit are the Batwa Pygmies (Bwindi & Mgahinga), Karamojongs and Acholis (Kidepo Valley National Park).
Batwa Trail / Experience. The Batwa Trail / Experience will grant you an encounter with the Batwa Pygmies in Bwindi or Mgahinga. These Pygmies still live an ancient life in forests and rely primarily on hunting to survive despite the change in the world. This tribe is greatly endangered by wild animals but still opt to live in the forests and surroundings of Bwindi and Mgahinga. They are very fun to visit and apparently the best tribe for community walks, reason why their activity is priced a bit high. A batwa trail costs between $30 to $50 where as the full day experience that happens in Mgahinga will cost you $100.
White Water Rafting. White water rafting is another exciting adventure and is mainly carried out from Itanda Falls – Jinja on River Nile. The challenge and adventure is probably one of those adventures you can never forget easily. I have done rafting on the Nile before and it scared the hell out of me! I'd be very brave to try it out anytime soon but still, i loved the adventure.
Bungee Jumping. Bungee Jumping is also carried out from Jinja (Same place as rafting). It's another of those adventures for the brave. However scary it might be, the rope can't cut lose so at the end of the day you will still come out in good shape. Good thing is all these activities at Itanda falls can be carried out in one day only that we recommend you take at least two days so that you get the best experience.
Quad Biking / Horse Bark Riding. These two activities can be carried out in Jinja and Lake Mburo National Park. Of the two places, i recommend Lake Mburo more because of the possibility to see wildife while carrying out your activities.
City Tours. City Tours are best recommended for last days of Uganda safaris and are usually slotted that way. In case your safari ends too early or rather you have a few more days to your departure then you can maximize on that. City tours are mainly carried out in Kampala and Jinja and feature visits to monuments, cultural centers like Ndere Cultural center, religious facilities, botanical gardens in Entebbe, exploring night life plus more.
Mountaineering / Mountain Hiking Mountaineering is so physically challenging that you have to be very fit to accomplish it successfully. I often see travelers end their journey half way and instead opt to stay at respective camps as they wait for their friends to return from their hike which isn't good. You have to be extra brave and hungry to hike till the peak before you return to your starting point. Unlike other activities, this activity can't be done in one day and can take up to 10 days to climb up and return to your starting point. A climb to Margherita Peak of Mt Stanley (Mt. Rwenzori) takes approximately 5 days and another 5 days for your return, which equates to 10 days of hiking. In between there are camps and stopping points where you will be resting as you experience the hike. So far the oldest woman to reach Margherita peak is Beryl Park, at the age of 78 in 2010. Another mountain worth a climb is Mt Elgon in eastern Uganda. This adventure is equally awesome but not so close to the Margherita adventure.
Sipi Falls Hike. Sipi Falls are located in a district known as Kapchorwa and remain among the most beautiful creations in eastern Uganda. As you edge Kenyan boarder, you will see one of Uganda's least visited national parks, Mount Elgon National Park. It is at the edge of this national park that you will see the magical Sipi waterfalls (A waterfall made up of three rivers). The hike is quite adventurous and will require you to travel in vehicles as you trek on feet at the same time.
I could have left out some of the activities but above are just some of the best and most popular that i believe will give you the best moments in Uganda. These activities are not so expensive except for gorilla tracking and i recommend you carry out as much as you can when you travel to Uganda.