5 Days Lake Mburo & Bwindi Gorilla Safari
5 days (4 nights) in the wild is an awesome experience that will leave you amazed as you will explore nature at its best in Africa? On this safari, you will first visit Lake Mburo national park which hosts about 300 bird species and 98 mammals after which you will head to Bwindi impenetrable forest national park ; home to over half the population of endangered mountain gorillas in the world.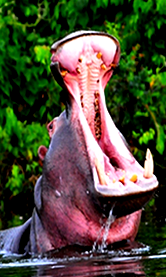 DAY 1- Transfer to Lake Mburo national park
You will be picked up from your location in Kampala after breakfast by our tour guide for a distance of about 230km for 4 hours to Lake Mburo Park via mbarara town. On arrival, you will visit some local communities or go hose riding after checking in. you will later have dinner and spend the night.

DAY 2- Game drive and boat ride
You will wake up to ready breakfast after which you will be treated to a game drive in Lake Mburo national park. Inside the park, you may spot animals like the impala, zebra, duiker, buffalo, hyena, leopard, antelope, eland plus primates like the verevet monkey and olive baboon. Different birds can also be spotted like the black billed barbet; white winged warbler and crested francolin after which you will go are taken back to the lodge for lunch. After lunch, you will have a boat ride on Lake Mburo were you might get a chance to spot the crocodiles, hippos and birds like the rare shoebill. Later in the evening, you will return to the lodge for dinner and spend the night.

DAY 3- Transfer to Bwindi Forest
Breakfast in the morning, check out and then you will be driven to bwindi national park for about 5 hours covering a distance of 271.4km from Lake Mburo Park. Lunch en route in kabala town. Dinner and over night at the lodge in bwindi.
DAY 4- Gorilla tracking
You will have morning breakfast and you will be picked up by the guide with packed lunch to UWA park head quarters for briefing after which you will be assigned a guide that will lead you through the forest. This trekking normally goes for 1 to 8 hours depending on your luck with the gorillas. You will be given an hour with the gorillas so you have a clear looking at them. In this jungle, you might come across different birds like the short tailed warbler, bar tailed trogon, handsome francolin, white tailed blue monarchy, dusky crimson wing, rusty faced woodland warbler, yellow eyed black fly catcher among other plus numerous bat species and rodents. After this great adventure, you will be awarded a certificate upon your successful gorilla trek and driven back to the lodge for dinner and spending the night

DAY 5- Return to Kampala
With the night well spent, you will have breakfast at the lodge before checking out there after you will embark on your journey back to Kampala city. Along the journey, you may stop at Igongo cultural center for lunch and also visiting the museum after which you will proceed. Another stop will be made at the equator for some photos then continue to Kampala.
END OF SAFARI

Contacts & Address
We are situated at Najja Shopping Center, Najjanankumbi along Kampala-Entebbe Road P.O.Box 33137 Uganda -
Email- info@travel256.com

256 701

367 970