10 Days Uganda Safari Adventure- Wildlife & Primates
On this adventurous safari, you will get to visit one of the best national parks in east Africa and Africa as well. Murchison falls national park, Kibale national park and Queen Elizabeth national park. These parks host various mammals and primates plus birds making them one complete package of wild life.
DAY 1- Arrival
Today you will be picked up from the airport by our driver who will take you to your hotel in Kampala were you will be spending the night and also having dinner.

DAY 2- Transfer to Murchison falls national park
This day being the first, not much will be done as it starts with being picked up either from the airport or hotel you are staying in. The journey to the park that takes about 4 hours is an amazing experience as the clients can enjoy the beautiful environment along the journey and can also decide to have a stop at the Zziwa rhino sanctuary. This place hosts the endangered white and black rhinos. After this pleasant view, you will embark on the journey to Masindi town where you will have a mouth watering lunch and rest a bit for some minutes before proceeding to Murchison Park. This park has various accommodation sites to suite all clients. It has luxury lodges like Paraa safari lodge, Nile safari camp, Chobe safari lodge and moderate lodges like Sambiya river lodge, Murchison falls river lodge plus budget lodges like Red Chilli camp. All these offer comfort t the clients. There will be checking in at the preferred lodge and a night spent.

DAY 3- Game drive and boat cruise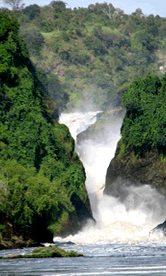 This park is the largest with a huge concentration of mammals. On the 2nd day, you will wake up early and have breakfast and get ready for your 1st activity. A guided game drive will be conducted to the northern bank of river Nile that has a bigger concentration of wildlife. Here, one stands a chance to see numerous mammals that are unique to the African savannas like the giraffe, buffalo, lion, hyena, elephant, Uganda kob and leopard and many more. In this section, you may also enjoy impressive bird species like the African fish eagle being one of the prized sightings and with luck, the rare shoebill stork. Awesome scenery is also enjoyed with a variety of vegetation ranging from riparian forests and swamp lands to broad savannah. Later, you will be driven back to the lodge for a lunch break.
After lunch, you will be taken to your next adventure. Here is a boat cruise upstream the Nile River to the falls. On this trip, you might also spot numerous birds like the yellow billed stork, African fish eagle, Egyptian goose, egrets plus many more drinking water at the river bank. Water animals like schools of hippos, elephants, huge crocodiles and buffalos can also be seen on a good day as the cruise goes close to the falls base. After this activity, day two is well spent as you will be driven back to the lodge to have dinner and spend the night.

DAY 4- Transfer to Kibale national park
Today after breakfast, you will checkout and then embark on a journey to your next destination. This journey covers a distance of 294.4km, about 4 hours from Murchison falls national park to Kibale national park via the Kyenjojo – Hoima road. On arrival, you will check into the lodge were you will be having dinner and also spending the night.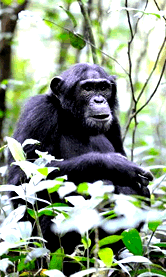 DAY 5- Bigodi wetland and chimp tracking
You will be driven to the headquarters for briefing just after you have had breakfast for a little briefing about the gorilla trekking. During this activity, you may see birds like western green tinker bird, olive long tailed cuckoo, the African grey parrot, red chested fluff tail, red winged francolin, green breasted Pitta, white napped pigeon, African Piita, grey winged robin, joyful green bull, grey throated fly catcher, Abyssinian ground thrush, white bellied crested fly catcher, black capped Apalises and many more. You will also spot primates like the blue monkey, red tailed monkey, white checked Mangabey, olive baboon, chimpanzees and black, white and red colobus. Other mammals like blue duiker, genet, bush pig, bush buck and the African civet can also e seen. Spotted in this park though rare are the water bucks, buffalos, warthogs, hippos and the giant forest hog are also present plus forest elephants.
You will be driven to the lodge for lunch and later to the Bigodi wetlands for birding. It hosts about 138 bird species among which are the great blue Turaco. After here, you will be driven back to the lodge for dinner and sleep over.

DAY 6- Kibale park to queen Elizabeth Park
Today after breakfast, you will be driven to Queen Elizabeth national park. This journey covers a distance of 113.1km, about one hour and 30 minutes using the Kasese - Mbarara road. On arrival, you will check in and have lunch. In the afternoon, you will visit the Katwe salt mines plus the local communities around. Later on, you will return to the lodge where you will be spending the night and also having your dinner.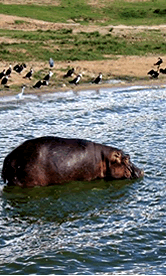 DAY 7- Game drive & boat cruise along the Kazinga channel
After breakfast, you will go for an early game drive in the park were you may see mammals like the tree climbing lions, leopard, spotted hyena, elephants, hippo, topi among others. This is one of the best game drives you can ever have. You will then return to the lodge and have a mouth watering lunch. When lunch is done, you will have a boat ride along the Kazinga channel where you might see birds like the African fish eagle, knob billed ducks, and reptiles alike the crocodile and water mammals like the hippos. This ride will leave you with an amazing experience on water. When back on the shores, you will ride back to the lodge for dinner and night

DAY 8- Transfer back to Kampala
This is the day you will be heading back to Kampala. You will have early breakfast, check out and embark on your return journey. You will make a stop at the equator for a photo shot and then continue on your journey back to Kampala. This journey will take you about 5 hours and 30 minutes, a distance of 385.7km via the Mbarara- Kasese road and Mbarara- Masaka road.
DAY 9- Kampala city tour
Today you will do a city tour in Kampala. Visit the Uganda museum which displays and exhibits ethnological, natural historical and traditional life collections of Uganda's cultural heritage. The Uganda martyrs shrine Namugongo, a memorial ground for the Uganda martyrs that where killed for their faith (belief in Christ), the Bahai temple and Zoo. You will have lunch and later transfer relax at the lodge
DAY 10- Departure
You will be picked up from your hotel in Kampala by our driver to Entebbe airport just in time to catch your flight.
END OF UGANDA SAFARI

Contacts & Address
We are situated at Najja Shopping Center, Najjanankumbi along Kampala-Entebbe Road P.O.Box 33137 Uganda -
Email- info@travel256.com

256 701

367 970