7 Days Uganda Wildlife & Primate Safari
7 days (6 Nights) Uganda safari adventure combines best of Murchison falls park & Kibale forest- Activities featured include game drive, boat cruise, nature walks, chimpanzee tracking, bird watching plus local community visits.

DAY 1- Airport pickup
Today you will be picked up from the airport and taken straight to your hotel in Kampala where you will spend the night and have dinner.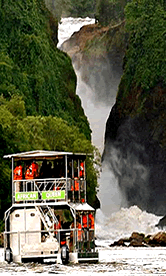 DAY 2- Transfer to Murchison Park
You will have breakfast at your hotel in Kampala where you will be picked up by our driver. It's about 5 hours from Kampala city to Murchison Park were you will lodge in into a lodge for the night and dinner. On this journey, you will have a stopover at the Ziwa rhino sanctuary were you will also be having your lunch. You can later visit the top of the falls when you reach the ark later in the day.
Another option to this park is by air, a charter flight and land at Bugungu 13kms from Paara and Pukuba airfields 19km from Paraa.

DAY 3- Game drive and boat cruise
Today you will go for an early morning game drive just after having your breakfast. There, you may spot various mammals like buffalos, elephants, leopards, lions, antelopes, hippos, Uganda kob, Oribi and the Jacksons hartebeest. Leopards are also very present in this park though very rare. You will be drive back to the lodge for lunch after which you will go for the boat cruise down the river to the bottom of the falls where you might see water animals like the hippos, crocodiles and the shoebill stork.
After this trip on water is done, you will head back to the lodge for dinner and sleepover.

DAY 4- Transfer to Kibale Park
Today after breakfast, you will check out and embark on a journey of about 4 hours, a distance of 295km from Murchison falls national park to Kibale forest national park. This drive takes about 8 hours on murrum to Kanyanchu tourist center. On arrival, you will take some time to yourself; relax as you wait for dinner. You will also spend the night here.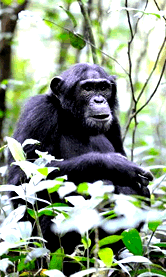 DAY 5- Chimp tracking and Bigodi wetlands
You will be driven to the headquarters for briefing just after you have had breakfast for a little briefing about the gorilla trekking. During this activity, you may see birds like western green tinker bird, olive long tailed cuckoo, the African grey parrot, red chested fluff tail, red winged francolin, green breasted Pitta, white napped pigeon, African Piita, grey winged robin, joyful green bull, grey throated fly catcher, Abyssinian ground thrush, white bellied crested fly catcher, black capped Apalises and many more. You will also spot primates like the blue monkey, red tailed monkey, white checked Mangabey, olive baboon, chimpanzees and black, white and red colobus. Other mammals like blue duiker, genet, bush pig, bush buck and the African civet can also e seen. Spotted in this park though rare are the water bucks, buffalos, warthogs, hippos and the giant forest hog are also present plus forest elephants.
You will be driven to the lodge for lunch and later to the Bigodi wetlands for birding. It hosts about 138 bird species among which are the great blue turaco. After here, you will be driven back to the lodge for dinner and sleep over.

DAY 6- Return to Kampala
You will return to Kampala after breakfast with a stop at the Nakyima tree. This journey takes about 4hours and 30 minutes, a distance of 309.7km. You will check in at a hotel in Kampala, have dinner and then spend the night.

DAY 7- Departure
Today, you will be picked up from the hotel and transferred to the airport in time for you your flight back.
END OF SAFARI

Contacts & Address
We are situated at Najja Shopping Center, Najjanankumbi along Kampala-Entebbe Road P.O.Box 33137 Uganda -
Email- info@travel256.com

256 701

367 970