8Days Uganda Gorilla Tour and Cultural Experience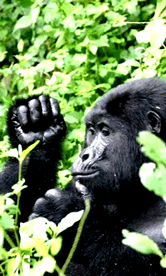 The 8 Days Uganda Gorilla, Culture, wildlife & Chimps Safari that can let you tour Uganda's best safari destinations in the shortest time possible. This Uganda safari is organized in a way that you are able to spot the interesting tourism attractions in Uganda's national park.
Day 1: Transfer Bwindi Impenetrable National Park
Early morning after breakfast transfer to Bwindi Gorilla National Park. You will make a stopover at the Equator where you will have a water experiment. Lunch at Igongo Country Hotel and have a glimpse into the Erijukiro (museum) and the 1520AD eclipse monument. Drive to Bwindi and upon arrival relax, dinner and overnight at your selected accommodation.
Day 2: Mountain gorilla Tracking
Begin the day with breakfast ready for Gorilla tracking, then transfer to the park headquarter for a briefing from the Uganda Wildlife Authority staff. Ensure to carry along with you rain jacket, drinking water, snacks, jungle boots, long sleeved cloths and a walking stick is provided. The guides will lead you inside the jungle to see the endangered Mountain Gorillas for a group you have been booked for. Do not forget to take your lunch boxes and all the necessary gear to track the rare Mountain Gorilla, perhaps one of the most exciting wildlife experiences on earth. The tracking may take between 2 and 6 hours but its well worth the effort. In the evening enjoy entertainment from the Bakiga community and a bonfire at the Nyundo Community Bandas with traditional stories of the history of the Kigezi. Dinner and overnight at your selected accommodation.
Day 3: The Batwa Trail Experience
After breakfast, transfer to Mgahinga Gorilla Park head offices for the briefing about the forest and then take the full day Batwa cultural trail and visiting their ritual points in the Mgahinga forest like the Garama Caves and also get to know their life style from their historical leaders. This experience tends to take full day inside the forest understanding their historical and current life style. Dinner and overnight at your selected accommodation.
Day 4: Bwindi-Queen Elizabeth National Park (Ishasha sector for tree climbing lions)
Have breakfast and then transfer Queen Elizabeth National Park with lunch en-route and thereafter drive to the Ishasha southern sector to look for the tree climbing lions and other wildlife species like Elephants, buffaloes, water and bush bucks, warthogs, oribi, topi among others. Dinner and overnight at your selected accommodation.
Day 5: Ishasha Sector-Mweya Peninsula
After breakfast, take another dawn game drive into the Ishasha sector looking for more wildlife species and then after transfer to the Mweya peninsula and take afternoon launch cruise where you will spot various water animals such as Hippos,Crocodiles,Elephants,Monitor Lizards and so many birds. Dinner and overnight at your selected accommodation.
Day 6: Game drive-Kibale Forest National Park
After early morning breakfast go for another game drive at the Kasenyi mating ground to spot the lions, elephants, buffaloes, water and bush back, warthogs and other species of Antelopes. Return to lodge for lunch, after embark the safari jeep and transfer to Kibale Forest with the fabled view of the mountain of the moon. Dinner and overnight at your selected accommodation.
Day 7: Kibale Forest Chimpanzee Trek & Amabere Ga Nyinamwiru
At 8.00am we will start with the 4 hour chimp walk – during which you may also get to see 10 other primates! Kibale Park is also known for all the butterflies and birds. In the afternoon we will visit the Amabere Ga Nyinamwiru caves (Breasts of Nyinamwiru) is named after Nyina Mwiru of the Chwezi Dynastry (the Bachwezi). She was the daughter of Bukuku, a very rich man and King of the Batembuzi dynasty, the predecessor of the current Babito kings of Toro and Bunyoro kingdoms. She was a girl of famed beauty, and as always in this stories she was not willing to marry the man her father chose for her. As a result she was punished by cutting off her breasts which then grew into rock dripping with milk. Other versions of the legend tell, she cut off her breasts herself. One chamber of the cave contains stalactites which resemble in form female breasts. The dripping water from the stalactites deposited white calcite, so the water looks whitish. This is why the locals call it breast milk. However, the guides are well educated and tell the scientific background as well as the legend. The cave is visited with a local guide, who is included in the entrance fee. This is rather important, not because the cave is closed, but because its entrance is closed, but because it is covered by undergrowth and hard to find. The entrance is also low and narrow and requires some stooping. The cave is mostly big enough to walk upright, but there are some low and narrow spots. Actually visitors will get dirty and it is recommended to wear suitable clothes and bring clothes to change afterwards.
Several legends are told about the cave. One chamber is said to have been the resting place of the Bachwezi dogs, and the ceiling shows pits resembling dog paws. A waterfall called Natural Shower is said to have been used by the Bachwezi to take showers). Dinner and overnight at your selected accommodation.
Day 8: Drive to Kampala / Entebbe
An early breakfast and after drive back to Kampala or Entebbe with lunch en-route.
End of Safari


Contacts & Address
We are situated at Najja Shopping Center, Najjanankumbi along Kampala-Entebbe Road P.O.Box 33137 Uganda -
Email- info@travel256.com

256 701

367 970